Gymnastics Camps
Ages 6-12 – Fun, Flips and Fitness
The sport of gymnastics is an entertaining and exciting way for kids to stay active and fit. Come join us this summer in our 24,000 square foot centrally air-conditioned gymnastics facility, on state of the art equipment using all competitive events.

Our GTC camp is designed to help the recreational gymnast (level 1-3) to broaden their gymnastics skills, strength and flexibility. Trampolines, pits, and resi training will be utilized to create a safe, FUN, and productive learning environment. Our coaching staff will work with each gymnast to set goals and create a plan for the week.

What to Bring
Campers should wear a 1 piece leotard or shorts & t-shirt
Bring: 2 Peanut free Snacks, Lunch, 2 drinks, and refillable water bottle, flip flops/sandals...please label everything.
*** No Peanut Products or Tree Nuts ***
*** No Electronics ***

Download Gymnastics Camp Flyer
Download Registration Form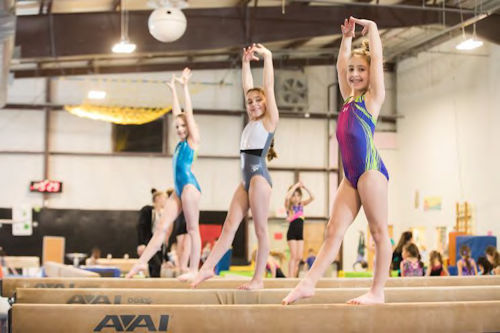 How to Register
Complete the registration form (Download here)
$50 non-refundable deposit per week due at time of registration
Balances are due the beginning of each month that you are registered for camp (June 1, July 1, and August 1) a credit card must be left on file.
No refunds after June 1st without a medical note.
$25 Fee if changing schedule after June 1. All changes must be done in writing.
Registration Links
Times & Pricing
Monday - Friday, 9am-3pm
$275/week
Registration Fee for new families $20
Must Register For All 5 days – No Prorating
Extended Days 8:00-9:00am & 3:00-4:00pm
Monday thru Friday
* must pre-register & pay with balance *
Mornings $35/Week; Afternoons $35/week
Dates
Week 1: July 12-16 (Just the Boys, ages 6-9)
Week 2: July 19-23
Week 3: August 2-6
Week 4: August 16-20
GTC Junior Camp
Boys & Girls Ages 3-5
(Must be potty trained)
This camp is for our littlest stars. It is creatively designed to promote body awareness and self-esteem through gymnastics. Our incredible coaches will guide your child through a true adventure each and every day. Gymnastics, story & a craft what could be better than that?
Dates, Times, and Pricing
August 9-13
Monday – Friday; 9:30am-11:30am
$175/week
Registration Fee for new families $20
What to Bring
Campers should wear a 1 piece leotard or shorts & t-shirt
Bring: Peanut free snack, drink, & Refillable water bottle
Download Gymnastics Camp Flyer
Download Registration Form