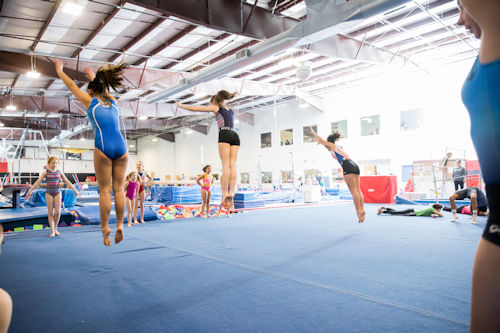 The tumbling program at Aim High Academy is designed to offer a place for every child. From beginner to advanced, from cheerleaders to snowboarders, at Aim High you will find a class that will fit your needs. All classes have full use of our state of the art facility with: an oversized tumbling floor, in ground trampoline, two in ground power tracs, two pit systems, handspring trainers, rope and spotting belt systems and much more.
** The class schedule for our tumbling programs will be updated based on the demand.
** All these classes are 1 hour and are for ages 6 and up.
Beginner Tumbling
No experience needed. This 60 Minute class will focus on beginner tumbling skills. Students will work on all motor skills; rolls, handstands, cartwheels and round-offs. Working up to handsprings and flipping.
Advanced Tumbling
Basic Motor skills and heavier work on handsprings and flipping. Requirements for this class include: back handspring with light spot, flipping into pit alone, all rolls, cartwheel and round off.