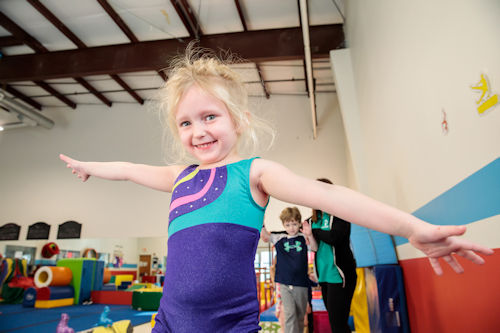 Classes in the recreational program are great fun, whether learning gross motor skills for the very young to learning the basic gymnastics skills that will form a foundation of the children's gymnastic experience. The recreation program is for both girls and boys ages 8 months old and up.
Open Gym
– Not Currently Available
Ages 1-5 Only
Do you have the winter blues? We have the sunshine for you! Aim High is offering a new program for preschoolers on Wednesday from 9:15am-10:45am. Drop in and spend some quality time with your little ones as they burn off energy while bouncing on and in our inflatables and trampolines...make it an outing and bring a picnic lunch to enjoy in our café! Cost is $10 per child, or $15 per family.
Simple Wonders
Ages 8 Months - 3 Years
This thirty minute exciting and energetic program is designed to introduce children to the joy of gymnastics and physical fitness. Each week, children in our Simple Wonders program learn and play on equipment specifically designed for this age group. Note, all children must be accompanied by parent or guardian.
Stargazers
Ages 2 - 3 years
A 60 minute pre-preschool experience, with a teacher from our Early Learning Center, that will introduce your toddler to the joys of a preschool-type class with fun and engaging hands-on activities in arts and crafts, songs, stories, and group games along with a 30 minute structured gymnastics class!
Sunshines
Ages 3 - 5 years
A challenging and fun-filled, 45-minute program that strives to build a child's self-confidence and physical strength. Balance, coordination, flexibility and strength grow as children participate in basic gymnastic lessons on our specially designed pre-school equipment. Note, must be potty trained.